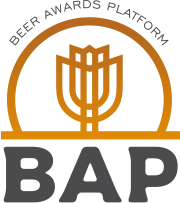 Solution for

beer competitions

The Beer Awards Platform (BAP) makes your competition much simpler. BAP manages your project from the moment of entry registration to final result disclosure.

View open competitions
Manage

your competition with ease

See all the features available to simplify your tasks!
Manage the beer styles of the competition by entering manually or importing from BJCP, BA and WBC guidelines.
Fully online judging
Create awarding categories, by grouping entry styles
Dashboard for judges and competition organizers
Create judging sessions and tables, BAP will take care of judge restrictions
Improve
your team performance
BAP offers tools to assist tasks execution during your competition, decreasing failure or error chances.
Competition organizer is able to:
Set judging categories, by grouping styles
Control orders and apply discounts
Configure judging sessions and tables
Configure marketing strategies
Confirm judges presence
For the services team:
Special feature for entry check-in and sorting
Track bottles from cellar to judge tables
Print labels for bottles and signs for judging tables
Customize
and personalize
Use your competition brand and visual identity to make BAP even more efficient
Homebrew or professional
3 languages supported (English, Spanish and Portuguese)
Customize the registration portal
Customize the entry form
Customize the scoresheet
Set your own payment method
Disclose the competition rules
Edit the cover image and presentation text
Impress your judges

and participants

Supported by BAP tools, judges have an intuitive environment at their disposal to work with agility and efficiency. Feedbacks are fast and participants receive the scoresheets safely and with quality.
Calibration round
BJCP structured scoresheet
Feature for Best of Show and Mini Best of Show
Dashboard for the organizer and judges
Judges performance history
Follow and manage entry scores during judging sessions
Awarded entries report
Send scoresheets to all participants in one click
Competitions
Get to know all the competitions that have used or are currently using the platform.